In this week's Monday Briefing, MEI experts Randa Slim, Yousef Munayyer, Charles Lister, Charles Schmitz, and Alex Vatanka provide analysis on recent and upcoming events including President Barzani's decision to step down from the KRG, the Trump administation's silent response to Israeli settlement expansion in Jerusalem , the Armed Syrian Opposition's attendance of the seventh round of Astana Talks, Saudi foreign minister blaming Iran for lack of progress in peace talks in Yemen, and President Rouhani's failure to advance the reform cause in Iran.
Barzani Stands Down as K.R.G. President
Randa Slim, Director of the Initiative for Track II Dialogues
Massoud Barzani, president of the Kurdish Region of Iraq, is stepping down from his post effective November 1. The decision honors the pledge Barzani made during the campaign for the independence referendum that he would take responsibility for the consequences. Since September 25, the Kurdish region has lost 30 percent of its territory, half of its oil revenues, and its borders are being delineated. In a region where leaders are seldom held accountable for their actions, it is notable that Barzani has resigned. While no longer president, Barzani will remain a key decision maker in the Kurdistan Regional Government and his name forever associated with Kurdish nationalist aspirations.
It is with the latter that Iraqi Prime Minister Haider al-Abadi, and Iraqis in general, must find a way to accommodate. Iraqi Kurds disagree among themselves about intra-Kurdish politics. A majority opposes the reign of corruption and mismanagement in place in the K.R.G. since 2003, as has been the case in the rest of Iraq. But the referendum results show the majority of Kurds want an independent state. This is the new political reality created by the September 25 referendum that Kurdish and Iraqi leaders, and the international community, cannot ignore.
Going forward, Kurdish leaders must get their own house in order and work with Baghdad within the framework of the Iraqi constitution to settle issues, including disputed territories, resource sharing and political autonomy. One lesson from the referendum fallout: Kurdish independence can only happen in agreement with Baghdad.

Trump Admin Quiet on Israeli Settlement Expansion
Yousef Munayyer, MEI Scholar
Since the election of President Donald Trump, the Israeli Right has viewed his administration as an opportunity to exploit and advance its paradigm of altering realities on the ground. The Trump White House has effectively erased any mention of the "two-state solution" and has been relatively quiet on Israeli settlement expansion, which previous administrations would not let go by.
The latest Israeli announcement of expanding a settlement situated in the midst of a Palestinian village in occupied Jerusalem should be seen as part of this exploitation. Settlement expansion in and around Jerusalem had always been seen as particularly contentious because some agreed-upon division of the city would be a necessary component of a two-state deal. Steps that would complicate partition, like this expansion, are particularly devastating to the prospects of division.
This comes just as the Israeli Knesset was set to consider a "Greater Jerusalem" bill, backed by Prime Minister Benjamin Netanyahu, which would incorporate massive settlement blocs into the municipality as a step toward annexation. Israeli officials have claimed the United States pressured them to hold off on this bill and will likely try to convince U.S. officials that this is not about annexation. Washington should not be fooled, however, since Israeli officials have made their annexation agenda clear in their own words.

Armed Syrian Opposition Attends Astana Talks
Charles Lister, Senior Fellow
The seventh round of negotiations in Astana began on Monday, with delegations representing all key parties seeking to further solidify agreements on de-escalating the conflict in specific zones of Syria. In addition to the presence of the core facilitators: Russia, Iran and Turkey, the talks were also to be observed by the United Nations, Jordan and the United States. The armed opposition sent a 16-man team, including senior officials from Ahrar al-Sham and Jaish al-Islam, as well as an array of Free Syrian Army factions.
The de-escalation regime was first agreed in Astana in May 2017 on the assumption that reduced levels of conflict would allow for "unhindered" humanitarian aid access and the "restoration" of key services like water and electricity. Five months later, fighting has reduced but conditions have changed little. In Eastern Ghouta, for example, an estimated 350,000 civilians are under an intensive siege, with infants there starving to death since last week.
Military dynamics in Syria may have shifted considerably in recent months, but the international community must be clear-eyed in acknowledging the realities of Russia's "de-escalation" initiative. It has not been called a "cease-fire" or "cessation" of hostilities for a reason. By accepting minimized levels of state-led violence and winning widespread diplomatic praise, this initiative merely provides cover for further regime gains to be achieved through continued starve-or-surrender tactics. This does not promise stability or a path toward defeating extremism.

Saudi-Led Coalition Meets on Yemen
Charles Schmitz, MEI Scholar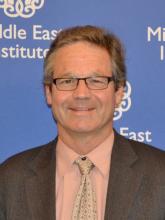 Saudi foreign minister, Adel al-Jubeir, reiterated Sunday that the Saudi-led coalition is firm in its commitment to continue the war in Yemen until the "springs of terrorism are dry," and that Iran is behind the lack of progress in peace talks. The remarks were made at a Sunday meeting in Riyadh of chiefs of staffs and foreign ministers of the Saudi-led Arab coalition fighting in Yemen. Earlier, U.S. ambassador to Yemen, Matthew Tueller, offered a more sober assessment that only talks between Yemenis will achieve a stable peace, but that distrust between the main actors prevents real dialogue. Ali Abdullah Saleh pointedly disagreed, saying separately that the war is between Saudi Arabia and Yemen, and his forces fired missiles into Najran in Saudi Arabia to emphasize the point.
Meanwhile on Thursday, all six Gulf states, including Qatar, joined the U.S. treasury in imposing sanctions on 13 Yemeni individuals and organizations. The sanctions included key members and supporters of the Hadi government, including Abd al-Wahhab al-Hamayqani, who is resident in Riyadh and a close advisor to Hadi, Naif al-Qisi, whom Hadi appointed governor of al-Bayda Governorate, and Adel Abdu Farea, a Salafi leader in Taiz responsible for funneling Saudi support to the resistance forces there.
Adding to the dissonance in the Saudi-backed government, the former governor of Aden, Aydarus al-Zabidi, organized a series of rallies last week for southern independence with at least tacit support from the U.A.E. If peace depends upon Yemeni-Yemeni dialogue, as Tueller suggests, it is not clear who would speak for whom in that dialogue.

Rouhani Failing Iran's Reformists
Alex Vatanka, Senior Fellow
President Hassan Rouhani continues to disappoint Iran's large reformist voter bloc. Since his re-election in May, the cleric has achieved no progress to advance the cause of reform in Iran. This is despite his campaign promise that "there will be more political freedoms in Iran." Instead, he has moved firmly to the Right to appease the unelected Supreme Leader Ayatollah Ali Khamenei.
For reformists, the list of Rouhani's recent disappointing acts keeps growing. Last week, his new education minister was confirmed by the parliament. The new minister is close to the hardliners, and his nomination came only after Rouhani had received a green light from above. Khamenei had reportedly rejected 20 other names that he deemed too close to the reform camp. Reformists saw this as utter humiliation since Khamenei on paper has no such prerogatives. As one leading reformist voice put it, "Rouhani got 24 million reformist votes, but is delivering for the 16 million [hardliners]."
Rouhani supporters say this is all part of a plan. To confront Khamenei now is to handicap himself since he can't possibly win, so why do it? And yet, confronting Khamenei was Rouhani's implicit sales pitch during his May re-election campaign. To say Rouhani has been the biggest disappointment in the 20-year reform movement that began with Mohammad Khatami is not an exaggeration. Rouhani will say his focus is first to fix the economy, but here too he is less than brave. For him, the only bright light is that the 2015 nuclear deal appears to be safe. The head of the IAEA, Yukia Amano, was just in Tehran and once again reaffirmed Iran is in compliance. But even here, it is Khamenei's stance that matters the most. Rouhani's second term seems bound to dishearten those hoping for non-violent reform in Iran.