In this week's Monday Briefing, MEI experts Paul Salem, Eran Etzion, Gonul Tol, Randa Slim, and Marvin G. Weinbaum provide analysis on recent and upcoming events including the potential for renewed U.S.-Iran talks, escalating tensions between Israel and Russia, Turkey's attempts to disarm rebels in Idlib, trilateral Russia-Turkey-Iran negotiations over Syria, and Russia-led Afghan peace talks.
Trump comes to leverage the UN, not to bury it
Paul Salem, Acting President
Last year, President Donald Trump came to the U.N. as a deal-breaker—promising to withdraw from the Iran nuclear deal and threatening to attack North Korea. This year's visit seems more set on deal-making. Before the visit, Trump tweeted that the U.N. "has tremendous potential" and that "a lot of good things can happen." This might reflect his growing self-confidence in his second year in office. It might also reflect the reality that after breaking the status quo with Iran and escalating with North Korea, he now has to find a way forward.
With regard to the Middle East, the primary focus will be on Iran. That will surely be featured in his speech Tuesday, and he is set to chair a U.N. nonproliferation meeting on Wednesday which he has tweeted will be "about Iran." New U.S. sanctions come into effect in early November, and the president will maintain the threat of secondary sanctions on countries—even allies—that do not comply.
On the other hand, his administration has extended an olive branch. Trump has repeatedly said he would meet with Iranian leaders without preconditions; this was echoed by U.S. Ambassador to the U.N. Nikki Haley yesterday. And Iranian President Hassan Rouhani penned a conciliatory op-ed in the Washington Post this weekend expressing Iran's willingness to engage in diplomacy not only about nuclear issues but about Syria as well.
Trump is known for being able to turn on a dime. He went from ridiculing Kim Jong Un to calling him an honorable man almost overnight. No such turnaround is to be expected with Iran. But we might be on the road to renewed talks of some form between Washington and Tehran in the months ahead.
Russia and Israel: Awakening the bear
Eran Etzion, MEI Scholar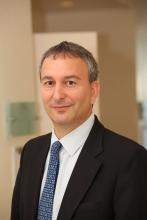 Israel's relations with Russia went into crisis mode after an aerial incident over Syrian airspace, which cost the lives of 15 Russian servicemen. Although the Il-20 surveillance aircraft was shot down by a Russian-made and Syrian-operated S-200, Russia quickly built a narrative that puts the blame on the Israeli air force and government. While many in the Israeli establishment were hoping that Putin would adopt a less aggressive posture than his defense and foreign ministries, it is becoming clear that the shrewd, strategic Russian leader—true to form—is busy leveraging what he officially termed a "tragic series of mistakes" into a drastic change in the rules of engagement over Syria's sovereign territory.
The status quo ante, based on Russian-Israeli understandings, de facto allowed Israel to strike Iranian military assets in Syria, as long as Russian assets, including Bashar Assad, were off-limits. It was in any case a short-term understanding as far as Russia was concerned, designed as a part of its overall politico-military campaign to reinstate Assad as a Russian-Iranian proxy. From Putin's perspective, this is an opportune moment to rewrite the rules and cut off Israel's overflights and attacks in Syria. For Netanyahu, who has invested a lot of political and diplomatic capital in vowing to "prevent Iran's military entrenchment in Syria," it is a potential heavy blow at a sensitive political moment, as he is contemplating calling for early elections. He is probably hoping for a helping hand from the U.S., but it is highly unlikely to appear.

Turkey's no-win situation in Idlib
Gonul Tol, Director for Turkish Studies
Turkish President Recep Tayyip Erdogan and Russian President Vladimir Putin recently agreed to create a demilitarized zone in the rebel-controlled Idlib enclave as a buffer between the Syrian army and the rebels.
The deal has been heralded as a diplomatic victory for Ankara, probably too soon. The road ahead will be tough no matter whether Turkey fails or succeeds. Turkey now faces the task of persuading its proxies to give up heavy weapons and removing radical groups from the zone by Oct. 15. Pro-Turkey rebels have cautiously accepted the deal but have said they will not abandon their weapons. The dominant force in the region—the Hayat Tahrir al-Sham alliance—has not responded to the deal yet but many doubt they will agree to withdraw from the buffer zone. A small jihadi faction in Idlib, the Horas al-Din faction, already rejected the plans and urged rebels to launch new operations in Idlib. Even if Turkey convinces the radicals to withdraw, there are still lingering questions: where will they go? Turkey suggested they return to their home countries but who will want them back in their borders? And the optics of a Turkey that has leverage over al-Qaeda linked groups are not good.
If Turkey fails to deliver in Idlib, millions of refugees will mass on the Turkish border at a time when the country's economy teeters. A regime recapture of Idlib will also weaken Turkey's hand in Syria and put its military presence in the country in jeopardy as the regime and Russia are likely to turn their attention to Turkish-controlled territories in the north.

The future of the Astana process
Randa Slim, Director of the Initiative for Track II Dialogues
The trilateral Russia-Turkey-Iran meeting in New York on the sidelines of the U.N. General Assembly meeting comes on the heels of an agreement between Turkish and Russian military and intelligence officers on the demarcation of the borders of a demilitarized zone along the contact line between armed opposition and Syrian government troops in Idlib. This demilitarized zone is part of the Sochi memorandum of understanding between the Russian and Turkish presidents.
This meeting serves to bring the spotlight back to the Astana process as the negotiation and decision-making platform of the political solution in Syria. It is reported that the agenda will focus on post-Sochi arrangements including cease-fire negotiations and launching the constitutional committee in Geneva.
There are lingering doubts as to whether Ankara will succeed in implementing the Sochi deal, especially in separating the Hayat Tahrir al-Sham fighters from the armed opposition groups and forcing the former to exit the demilitarized zone. The deal also calls for all armed opposition groups to remove their weapons, rocket systems, and tanks from the demilitarized zone. If successfully implemented, the Sochi deal helps Moscow achieve three objectives: preventing attacks emanating from Idlib against Russian bases in Syria, keeping Erdogan on Russia's side as it pushes forward with the political process in Syria, and reinforcing Moscow's role as the arbiter of future military developments in northwestern Syria, giving it leverage in negotiations about Syria's political future.
If the Turkish military and intelligence services fail at fulfilling the commitments made at Sochi, Moscow will find it hard to placate its Syrian and Iranian allies who have been pushing for Damascus to reassert its control of Idlib province. Moscow will then face a scenario it has so far succeeded at averting—taking sides between its Turkish and Iranian partners in Syria and bringing an end to the Astana process.
Dueling diplomatic processes in Afghanistan
Marvin G. Weinbaum, Director for Afghanistan and Pakistan Studies
As Russia prepares for a peace negotiations summit in Moscow between the Taliban and the Afghan government, the U.S. is planning its own summit in Doha, Qatar. The Taliban and the Afghan government have conveyed their readiness to attend the Moscow talks. Although invited, the U.S. has refused. The Afghan government had at first refused to attend without receiving assurances that it would have an opportunity to hold direct discussions with the Taliban delegation. Kabul has long insisted that peace talks can only be Afghan-led. The Taliban considers the Afghan regime illegitimate and says it will negotiate only with the Americans. Now, after further discussion with Russian officials, the Kabul government, which is desperate to further any peace efforts, has agreed to go. No mention has been made of whether the Taliban has relented on meeting separately with a Kabul delegation.
This Russian initiative threatens to overshadow Kabul-sanctioned U.S. efforts to facilitate a peace deal. After months of formal and back-channel discussions with purportedly reliable Taliban representatives, the U.S. has expressed confidence in being able to advance the peace process. How discussions in Moscow might threaten any progress already made between the U.S. and the Taliban is uncertain. Washington is suspicious of Moscow; American military commanders accuse Russia of supplying arms and equipment to the Taliban. For their part, the Russians blame the U.S. for prolonging the conflict in Afghanistan and suspect the Americans of seeking to establish permanent military bases in the country in order to pursue a strategic regional presence.