In this week's Monday Briefing, MEI experts Charles Lister, Randa Slim, Jean-François Seznec, and Mirette F. Mabrouk provide analysis on recent and upcoming events including escalating tensions in Idlib, protests in Basra and their implications for Iraqi politics, a Saudi sovereign wealth fund's loan to help make up for Aramco IPO revenue, and Egypt's diplomatic outreach to China.
Tensions escalate in Idlib
Charles Lister, Senior Fellow
Following the ambiguous conclusion of last week's Syria summit in Tehran, and despite intensifying international diplomatic pressure, Russia and the Assad regime have initiated a preliminary air campaign in northwestern Syria. In the past 72 hours, monitors have reported more than 70 Russian airstrikes, 50 regime barrel bombings, 15 cluster munition attacks, and more than 565 artillery strikes—mostly concentrated in northern Hama and southeastern Idlib. This initial campaign appears aimed at weakening opposition front-line defenses and at depopulating areas likely to see first-phase ground fighting. At least 30,000 civilians have already fled these peripheral areas since Sept. 6, and three hospitals, two rescue service centers, and an ambulance depot have all been destroyed.
As a key guarantor state, Turkey appears determined to deter further escalation. Dozens of Turkish military convoys have deployed into and around Idlib in recent weeks, recently including tanks and heavy artillery and missile systems. At least 500 specialist commandos also arrived on the Idlib-Latakia border, supplementing the hundreds of troops already inside Syria. In an apparent move to mobilize greater Western involvement in deterring escalation, the Turkish government also indicated on Sunday that it "will not take responsibility for any migration wave" that will follow an all-out assault on Idlib.
Behind the scenes, the U.S. and its European allies have been designing possible diplomatic, military, and economic responses to any major Russian-Syrian attack. U.S. intelligence has reportedly concluded that the Assad regime has authorized the use of chlorine during any upcoming attack, with the Trump White House and a newly energized State Department threatening a military response.
In this context, the upcoming "small group" meeting in Geneva is set to be overshadowed by events on the ground inside Syria—as has all too often been the case when it comes to U.N. efforts.
Protests rock Basra amid political intrigue
Randa Slim, Director of the Initiative for Track II Dialogues
Last week, protests intensified in Basra, culminating in the burning of the Iranian consulate and other government headquarters on Sept. 8. Security forces responded to the protests with force, resulting in the deaths of at least 15 and injuring hundreds of others.
In response, the parliament held an extra-constitutional session on Sept. 8, after which a spokesperson from cleric Moqtada al-Sadr's Sairoon coalition released a statement demanding that Prime Minister Haider al-Abadi both apologize to the Iraqi people and submit his resignation. The Conquest alliance, led by Badr militia leader Hadi al-Ameri, joined the chorus demanding Abadi's resignation.
In a last-ditch attempt to revive his political prospects, Abadi arrived in Basra on Monday to meet with local leaders. Despite assurances that his government would address the protesters' concerns, Abadi's prospects took a serious hit after Ayatollah Ali al-Sistani's office released a statement later that day calling for the new prime minister to not be chosen from among establishment politicians. With this statement, the Iraqi Shi'i clerical establishment is ensuring that the path to the premiership will be blocked for Abadi as well as his political opponents, including former prime minister Nouri al-Maliki, former minister of transport Hadi al-Ameri, and former national security advisor Faleh al-Fayyadh.
It has been reported that on the evening of Sept. 8 a meeting was held in Najaf between members of the Conquest alliance and Sadr, leading to rumors of a Sadr-Ameri alliance in forming the next government. If these reports are true, a Sadr-Ameri political alliance is likely to be a short-term one to ensure the accession to the premiership of a figure, most likely a technocrat, who will not threaten their respective interests.
PIF to sign $11 billion loan agreement
Jean-François Seznec, MEI Scholar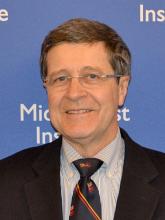 Saudi sovereign wealth fund PIF is scheduled to sign a five-year, $11 billion loan agreement this week with 16 banks at a relatively steep interest rate. As a fund with over $250 billion in assets in a country that holds over $500 billion in reserves, why does PIF need to tap international markets for such a large amount at such an expense? While PIF does not share much information with the public, the answer could be the result of several factors.
First, the delay of Saudi Aramco's initial public offering, which had been expected to provide PIF $100 billion, has upset the fund's substantial investment plans. It may also be unable to access cash reserves managed by the very conservative civil servants at the ministry of finance and Saudi Arabian Monetary Agency. These civil servants view the cash reserves as sacrosanct and may have a very dim view of PIF's investments in UBER, Tesla, and other high-risk companies.
To make up for the $100 billion, PIF is selling its 70 percent stake in petrochemical company SABIC to Saudi Aramco for $70 billion, though even this option leaves a $30 billion shortfall. Since Saudi Aramco is likely to tap international markets to fund the $70 billion purchase of SABIC, PIF needs to hit the markets first.
The loan has been oversubscribed, but coming shortly after three large international borrowings, it does create some questions about how much the kingdom can borrow while still maintaining its sterling financial reputation.
Egypt looks abroad
Mirette F. Mabrouk, MEI Senior Fellow
Last June, while speaking to Egyptian diplomats who had been nominated to lead missions abroad, President Abdel-Fattah el-Sisi described Egypt's foreign policy as "aimed at cementing ties between Cairo and world powers while maintaining its independent decision-making process and continuing the Egyptian active role in the region."
That sentence sums up a rather delicate dilemma for Cairo: it needs as many friends and allies as possible, both to expand diplomatic ties and to rebuild an economy recovering from two uprisings in seven years. However, it also needs to maintain a measure of independence, something that becomes more difficult to do as its circle of allies, each with conflicting interests, expands.
Enter China, with its deep pockets, its largely ideology-free financial commitments, and an appreciation for Egypt's geographic location. China is pouring investment cash into Egypt, including the construction of the new administrative capital to be located east of Cairo. In March 2018, Ahmed Darwish, then-chairman of the Suez Canal Economic Zone, said China was the largest investor in the development of Egypt's Suez Canal Corridor. He described a win-win situation: China markets the corridor to its investors while "Egypt's trade agreements with African states make it easy for Chinese products to enter African markets without trade barriers or customs."
Last week, Sisi and Chinese Premier Xi Jinping also signed three agreements on security, transport, and satellite technology.
Its long-term partnership with the U.S. notwithstanding, Egypt will continue to try and expand its circle of economic and security alliances, keeping all its options as open as possible.
OMAR HAJ KADOUR/AFP/Getty Images