In this week's Monday Briefing, MEI experts Robert S. Ford, Gerald Feierstein, Marvin G. Weinbaum, and Bilal Y. Saab provide analysis on Iran's efforts to stay in Syria, Pompeo's upcoming trip to Abu Dhabi, the Pakistan Muslim League's struggle in the upcoming National Assembly elections, and Qatar's decision to renege on its Russian S-400 purchase.
Will Iran leave Syria?
Robert S. Ford, Senior Fellow
The Syrian government continues to advance against opposition-held pockets in southwestern Syria. Its Jul. 6 deal with rebels east of Daraa city enabled its forces to advance more quickly in return for allowing irreconcilable fighters to transfer to the Idlib pocket of rebels in northwestern Syria. The Syrian government took control of the major commercial crossing with Jordan at Naseeb, a step a senior Jordanian official called "positive." Syrian government forces now surround the remaining opposition held districts of Daraa city and if they do not surrender promptly the government will pummel them hard.
Watching Syrian events carefully, Israeli Prime Minister Benjamin Netanyahu makes his third trip to Russia this year to meet President Vladimir Putin on Jul. 11. Netanyahu wants Putin to ensure advancing Syrian government forces respect the 1974 cease-fire agreement lines and that U.N. observers can redeploy into the demilitarized zone. Netanyahu also wants Putin to press Iran harder to withdraw its forces from Syria. U.S. President Donald Trump may raise this issue with Putin as well at their Jul. 16 meeting in Helsinki. One idea circulating in Washington is that the U.S. would retain its military presence at Tanf, near the junction of Syria, Jordan, and Iraq, until the Iranians withdraw from Syria. However, the Iranians are deeply embedded in the Syrian security forces, and a senior Iranian official affirmed on Jul. 8 that Iranian advisors would stay in Syria. Russian foreign ministry officials keep saying that their presence is reasonable, and Syria and Iran will not trade Tanf for withdrawal of Iranian forces. If the Iranians stay in large numbers, the potential for greater conflict between Israel and Iran in Syria will remain high. Indeed, Israel again bombed a major base used by Syrian and Iranian forces in central Syria on Jul. 8.

Pompeo's UAE agenda
Gerald Feierstein, Director of Gulf Affairs and Government Relations
Mike Pompeo will make his first visit to Abu Dhabi as secretary of state early this week following stops in North Korea and Japan and a surprise visit to Kabul. Pompeo is expected to discuss progress on confronting Iran in the post-Iran deal period with the Emirati leadership. Emirati support for U.S. efforts to ratchet up economic pressure on the Iranian regime will be important if the effort is to succeed. In particular, the Emiratis may use their close ties to potential sanctions violators, especially India, to dissuade them from purchasing Iranian oil. The talks follow Iranian President Hassan Rouhani's threat to disrupt Gulf oil shipments if Washington reimposes sanctions on Tehran.
The U.S. is looking for progress in resuming U.N.-led political negotiations to bring the Yemen conflict, now in its fourth year, to a close. The Saudi-led coalition had anticipated that its pressure on the Hodeida port would force the Houthis to return to negotiations, but U.N. Special Envoy Martin Griffiths has not achieved a breakthrough in the political dialogue. Meanwhile, U.S. support to the coalition is strained. The Emiratis were unhappy with Washington's unwillingness to support the Hodeida operation, and Senator Bob Menendez has placed a hold on planned munitions sales to the United Arab Emirates.
Pompeo may also reiterate U.S. frustration over Saudi Arabia, the UAE, Bahrain, and Egypt's resistance to resolving their dispute with Qatar. Pompeo made U.S. discontent with the quartet's position clear on his initial visit to Saudi Arabia in late April, but to little avail. Most recently, the continued standoff complicated U.S. plans to bring Emirati and Qatari forces to Afghanistan to support U.S.-led coalition operations there. Pompeo may reflect on that issue with the Emiratis, drawing on his stop in the Afghan capital.

The PML-N's pickle
Marvin G. Weinbaum, Director for Afghanistan and Pakistan Studies
Former Prime Minister Nawaz Sharif has vowed to return to Pakistan from London in order to appeal his accountability court sentencing of 10 years in prison and a hefty fine. Also sentenced to lesser penalties were his daughter and heir apparent Maryam Nawaz and her husband. Sharif had been barred from political office a year ago after failure to report an income source in a business transaction and was now charged with leaving unexplained how he was able to afford a luxury London apartment. To many observers, the judiciary—encouraged by the military—had orchestrated a soft coup designed to remove Sharif and his closest associates from public life.  
At the bedside of his dying wife, Sharif had been expected to gain a sympathy vote for his Pakistan Muslim League (PML-N) in the Jul. 25 National Assembly elections. But the latest verdicts are believed to have dealt a severe blow to the PML-N's chances of capturing a plurality of seats and being able to cobble together a ruling coalition.
The clear beneficiary of these developments is opposition leader Imran Khan and his Pakistan Tehrik-e-Insaf (PTI) that had in recent weeks been gaining momentum as defections from the PML-N ranks mounted. Khan, a populist running as a reformer against corruption, has recently controversially taken on many veteran opposition politicians as PTI candidates in order to boost the party's chances. With the odds of PTI forming the next government now having risen, what a Khan-led regime would mean for Pakistan is less calculable.

Qatar abandons the S-400
Bilal Y. Saab, Director of the Defense and Security Program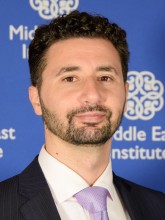 It seems that Qatar might not acquire Russia's advanced S-400 air defense system after all. Last week, Qatari Emir Sheikh Tamim bin Hamad Al Thani spoke to Russian President Vladimir Putin about a potential purchase, but ultimately could not issue the green light.
One might think that Doha registered Saudi Arabia's strong objections and threat to initiate military action against Qatar should the sale be finalized (ironically, Riyadh expressed interest in buying the same system not too long ago). But the Saudi sentiment had hardly anything to do with Doha's hesitation.
Putting aside the reasons for Qatar's interest in this particular air defense capability in the first place—some of Doha's arms acquisitions lately have been suspect, defying strategic logic—it was Washington, unsurprisingly, who communicated serious warnings to Doha about introducing Russian systems into a predominantly U.S.-made military architecture on the Gulf peninsula. If Washington is totally opposed to Turkey acquiring the S-400, why would things be any different with Qatar?
Washington will most likely win the fight on the S-400 simply because neither Doha nor Riyadh can afford to anger their most valuable security guarantor. But as Russia's geopolitical foray into the Middle East through the Syrian gate deepens, so will its arms diplomacy, making U.S. attempts to block large Russian arms deals in the region more difficult.
The U.S. has the best military equipment on the planet—and its Gulf partners know it—but that is not enough in an age of U.S. withdrawal from the region for these partners to stay committed to the U.S. market. It is only a matter of time before Gulf diversification of arms purchases becomes real, and neither the White House nor the Pentagon will be able to stop it.
Photo by YOUSSEF KARWASHAN/AFP/Getty Images