In this week's Monday Briefing, MEI experts Gerald Feierstein, Randa Slim, Marvin G. Weinbaum, and Jean-Francois Seznec provide analysis on recent and upcoming events including the seizure of Hodeida by an Emirati-led coalition, Iraq's ongoing political negotiations, the killing of TTP leader Mullah Fazlullah, and Friday's OPEC meeting in Vienna.
Hodeida under siege
Gerald Feierstein, Director of Gulf Affairs and Government Relations
Emirati-led coalition forces and their Yemeni partners launched their long-anticipated offensive to seize Hodeida port on Jun. 15. Reports differed over the progress of the fighting, whether the coalition had captured the airport south of the city, and the success of what appeared to be a strategy to cut Houthi supply lines east of the city and avoid a fight inside Hodeida itself. News of the attack raised significant concerns among Yemenis as well as within the humanitarian assistance community about the potential for a humanitarian catastrophe. The threat would be greatest if fighting spreads to the densely populated city or if the port suffers significant damage that would render it inoperable for a prolonged period.
U.N. Special Representative Martin Griffiths departed Yemen last week after meeting with Houthi representatives to urge that they surrender control of the port to a third party. He issued a statement on Jun. 13 expressing concern about the potential humanitarian impact of a military assault on Hodeida and the prospects for a new round of negotiations.
In their own statements, the coalition has pledged to ensure that they will provide broader access to Hodeida for humanitarian supplies as well as commercial traffic if the port comes under their control. The coalition asserts that their decision to attack Hodeida reflects a need to break a two-year stalemate in the conflict and force the Houthis, who reap substantial advantages from their control of the port, back to the negotiating table.
Depending on the outcome of the battle, it will be incumbent upon the U.N. and the international community to see if there is a new window of opportunity to reach a political agreement and end the fighting.  
Iraq's post-election wrangling
Randa Slim, Director of the Initiative for Track II Dialogues
After a holiday hiatus, the ongoing negotiations among Iraqi parties are set to pick up speed this week. In a televised address last week, Prime Minister Haider al-Abadi called on all political blocs to hold a national dialogue to develop a roadmap to address the legal and institutional challenges facing Iraq post-election. Officials in the Sairun alliance, which is led by cleric Muqtada al-Sadr and won the highest number of seats in the May 12 elections, have already cast doubt on Abadi's initiative. Abadi's call for national dialogue was issued two days after the announcement of a political alliance between Sadr's Sairun and Badr militia leader Hadi al-Amiri's Iran-backed Fatah coalition, the second-place winner in the elections. By calling for this national dialogue, Abadi is positioning himself as a national leader who stands above the political fray and by doing so, projects himself as a consensus candidate for prime minister.
Kurdish political parties are getting ready to join the ongoing negotiations in Baghdad. The Kurdistan Democratic Party (KDP) and the Patriotic Union of Kurdistan (PUK) are engaged in negotiations to field a joint delegation to Baghdad. They are still haggling over their respective shares of the posts that are usually reserved for Kurds in the Iraqi government and parliament. Some of the Kurdish opposition parties—including Gorran and the Kurdistan Islamic Union—are in talks with KDP about joining the KDP- and PUK-led delegation in talks with Baghdad. They are conditioning their participation on the two leading Kurdish parties agreeing to hold a transparent manual vote recount, and committing to refrain from vote-rigging and manipulation of election results in the upcoming elections in the Iraqi Kurdistan region.

US drone strike kills TTP leader
Marvin G. Weinbaum, Director for Afghanistan and Pakistan Studies
After years of eluding capture, Mullah Fazlullah, the leader of the Tehrik-i-Taliban Pakistan (TTP), was reportedly killed by a U.S. drone strike in eastern Afghanistan on Jun. 15. Fazlullah was responsible for ordering a number of high-profile attacks within Pakistan, including the attempted assassination of Nobel laureate Malala Yousafzai in 2012 and the killing of more than 130 children at a public school in Peshawar in 2014.
The killing of Fazlullah eases some of the tensions between Afghanistan and Pakistan. Both have repeatedly accused each other of failing to take measures to eradicate terrorists' safe havens within their borders. TTP fighters have in recent years found sanctuary in eastern Afghanistan while the Afghan Taliban have long crossed the border from Pakistan to carry out attacks.
The TTP has lost a number of senior commanders over the course of the past four months, and Fazlullah's killing will serve as a further blow to the TTP's ability to pursue its insurgency in Pakistan. Although a successor to Fazlullah will no doubt soon emerge, the TTP may be seriously handicapped, not least because the drone attack on Fazlullah reportedly also took out several of the TTP's most valued field commanders.
Afghanistan will be looking for reciprocal actions by Pakistan. It is hoped that the Pakistani government will take meaningful steps against the Pakistan-based Haqqani Network and Taliban, and press both to agree to peace talks with the Kabul government. Many hope that the overlapping cease-fires held during the concluding days of the Eid al-Fitr holiday have improved the climate for reconciliation.

OPEC to meet in Vienna
Jean-François Seznec, MEI Scholar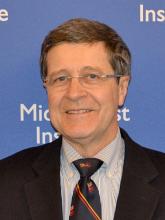 OPEC and non-OPEC oil producers will be meeting on Friday to discuss oil production cuts that have been in place since January 2017. Iran and Venezuela will want to keep the production cuts, thus blocking the consensus pushed by Saudi Arabia to cancel them. However, a lack of an OPEC agreement will not stop Russia and Saudi Arabia from returning production to pre-cut levels. Further, non-OPEC Russia and OPEC's Saudi Arabia, accompanied by the United Arab Emirates and Kuwait, may end up establishing a formal alliance outside of OPEC.
Saudi Arabia and the UAE want to limit Iran's exports and income by keeping prices at today's low levels and ensuring that U.S. sanctions against Iran really bite. Russia will claim to remain Iran's "protector" against the U.S. sanctions, while doing all it can to undermine Iran's oil market. At the same time, President Donald Trump has called for lower oil prices on Twitter, a call that will undoubtedly be well-received by India, which imports almost all of its oil, and China, now the largest crude oil buyer.
However, the Iran sanctions issue may soon become a sideshow for OPEC. Indeed, the rising trade war between the U.S. and China will ultimately determine the future of oil prices. The new Chinese tariffs on U.S. oil will keep prices up for Russian and OPEC production as China switches to them for oil imports. In the medium term, however, the trade war will undermine the dollar, damage world economies, and impact the overall demand for oil. Thus, it becomes important for Russia and Saudi Arabia to cooperate further to maintain their income and market share in a potentially declining market. Ultimately, for the non-OPEC/OPEC alliance, this implies taking down Iran and Venezuela.
Photo: ABDO HYDER/AFP/Getty Images