In this week's Monday Briefing, MEI experts Paul Salem, Alex Vatanka, Gerald Feierstein, and Charles Lister provide analysis on recent and upcoming events including U.S.-Middle East relations in the new Trump administration, the view of Trump's inauguration from Tehran, the Gulf's 'wait and see' approach to the new administration, and Russia's public position on Syria talks at the outset of talks in Astana.
Trump's Clenched Fist and the Middle East
Paul Salem, Vice President for Policy and Research
A number of themes of great relevance to the Middle East emerged in what one writer aptly dubbed Trump's "Clenched Fist" inauguration address. First, Trump vowed to "unite the civilized world against radical Islamic terrorism." Trump and his White House team, Stephen Bannon and Michael Flynn, tend to define civilization as Judeo/Christian; in his book The Field of Fight, Flynn describes Islam as a "failed civilization." This would drift dangerously in the direction of Samuel Huntington's Clash of Civilizations, weaken and alienate America's Muslim allies, and empower the jihadist narrative.
Second, while saying he "will reinforce old alliances and form new ones," he argued that for too long America has "subsidized the armies of other countries . . . and defended other nation's borders . . ." What impact this would have on military aid, for example to Egypt, or America's long-term deployments in the Gulf, will become clearer in the coming months.
Third, on trade: "We must protect our borders from the ravages of other countries making our products, stealing our companies, and destroying our jobs." This could impact current trade agreements with Morocco, Jordan, Israel, Oman and Bahrain, and might also hinder U.S. attempts to provide trade opportunities to Egypt and Tunisia.
Fourth: "We do not seek to impose our way of life on anyone," meaning his administration will not place emphasis on democracy or human rights. This will come as welcome news to most Middle Eastern governments, and very dispiriting to most populations.
 
Trump's Inauguration: the View from Tehran
Alex Vatanka, Senior Fellow
The reaction in Tehran to Trump arriving in the White House has been cautious, but composed. The two dominant factions inside the Iranian regime, the moderates and the hardliners, appear to agree on the question of Iran's posture toward the Trump presidency. Early signs of this emerging consensus points to an Iran that will have to be less provocative in its actions in the Middle East in order to avoid American reprisals. Even the most hawkish voices in the Islamic Revolution Guards Corps have warned about "sensitive days ahead between Iran and American generals."
The Iranian leadership has across the board paid very close attention to statements made by senior Trump administration officials about the need to contain Iran while not necessarily nullifying the 2015 nuclear deal. This has been the key takeaway in Tehran resulting from the last few weeks of confirmation hearings of top Trump appointees, such as Secretary of Defense James Mattis and Secretary of State Rex Tillerson.
From Iran's perspective, the best counter measure to this looming U.S. containment policy is to increase Iranian attempts aimed at détente with neighboring states. This is essential to prevent any successful Trump policy of isolating Iran. However, seeking détente with key regional rivals such as Saudi Arabia is a very steep climb for Iran. It is most likely unfeasible unless there is a significant shift in Tehran's regional policies, and there is no sign of that as of today. Instead, Iran's best hope is that the likes of Russia and China will prevent a successful American marginalization of Iran on the international stage, even if Tehran faces muscular push-back in the Middle East by a U.S.-led coalition, which is what President Donald Trump has promised.
 
Trump's Inauguration: the View from the Arab Gulf
Gerald Feierstein, Director of the Center for Gulf Affairs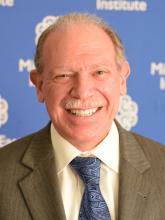 Reaction in the Gulf region to Donald Trump's inauguration as the 45th president of the United States, January 20, was largely muted. The president's comments on the region, both in his inauguration as well as his comments at the C.I.A. the following day, reprised standard campaign rhetoric and did not shed any greater light on how he intends to translate that into policy.
Official news agencies remained silent in response while press commentaries stressed the need to "wait and see." Khalid Almaeena noted in the Saudi Gazette that "the new president's reference to the international arena was mainly in the context of bringing jobs back to the U.S. and making America great again. Many people in all corners of the world continue to wonder what that means." The U.A.E.-based Gulf Today editorialized that "Donald Trump, on expected lines, started his presidential journey on a politically combative note. Tall pledges were made, which will call for real commitment at all levels." But the paper concluded with words of advice for the new president: "Trump has repeatedly promised to 'make America great again.' While that sounds good and fair, the world unquestionably would be a better place with more bridges than walls."
And, in a warning sign that Trump's campaign rhetoric may begin to generate negative reactions in the region, Almaeena responded to the president's reference "to eradicating radical Islamic terrorism." "Many secular and liberal Arabs thought this remark was unnecessary," he said. "He could have just mentioned terror groups in the Middle East."
 
Syria's Regime, Opposition Trade Accusations at Astana Talks
Charles Lister, Senior Fellow
Representatives of the Syrian opposition and the Assad regime briefly faced each other down on Monday, as delegations issued their opening remarks at Russian-sponsored talks in Astana. That introductory meeting was far from a breakthrough, however, as both sides accused the other of terrorism and neither gave any indication of being interested in constructive, direct negotiations.
Following discussions with six opposition delegates present in Astana, it is clear that they remain intensely skeptical of the regime and Iran's willingness to engage. However, perceptions of Russia are evolving. "The regime will never change," one opposition delegate told me, "but we hope Russia can produce the results it's promised us." All six opposition figures insisted that Astana's indirect talks under joint Russian-U.N. facilitation would focus solely on strengthening cease-fires and freeing up humanitarian aid flows to those in need. "This is it, no more," one said.
In a highly notable departure from previous rhetoric, Russia issued a public rebuke of the regime's repeated cease-fire violations on Monday, and insisted during talks in Astana that contrary to the regime's allegations and justification for a continued siege, al-Qaeda had no presence in the strategically important water-bearing town of Wadi Barada. Russia's posture towards the armed opposition has also evolved in recent weeks, with its defense ministry now classifying Islamist groups Jaish al-Islam and Ahrar al-Sham as "moderate," while previously they had been termed "terrorist groups."
These changes notwithstanding, whether Russia is genuinely shifting in divergence from Assad and Iran, or is merely manipulating a vulnerable opposition remains to be seen. But without a stronger and more neutral Russian role, prospects for success in Astana are minimal at best.
Meanwhile in northern Syria, extremist group Jund al-Aqsa has been expelled from de facto al-Qaeda affiliate Jabhat Fatah al-Sham, only months after being taken in. This comes after Syria's opposition in Idlib declared a war of "annihilation" against Jund al-Aqsa, after accusing it of working for ISIS. Although Ahrar al-Sham signed a cease-fire with the group on Sunday, fighting has continued and with Jund al-Aqsa now lacking Fatah al-Sham's protection, further hostilities should be expected.