In this week's Monday Briefing, MEI experts Jean-François Seznec, Randa Slim, and Charles Lister provide analysis on recent and upcoming events including Saudi Aramco's stalled IPO, the Iraqi Kurds' evolving role in government formation talks, and ratcheting tensions in Idlib.
The bureaucratic battle for Saudi Arabia's future
Jean-François Seznec, MEI Scholar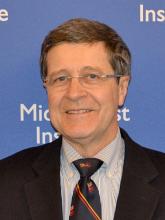 When Saudi Arabian Oil Co.'s IPO was first mulled in 2016, the kingdom's top sovereign wealth fund—the Public Investment Fund (PIF)—was expected to become the holder of Saudi Aramco's shares along with those of Saudi petrochemical maker SABIC and the National Commercial Bank (NCB). However, when Saudi Aramco was incorporated in December 2017 the shares of Saudi Aramco became property of the Ministry of Energy, leaving PIF "only" the proceeds of the IPO, around $100 billion. Without access to the rest of Saudi Aramco's shares, PIF cannot easily raise funds for its planned multibillion dollar investments in and outside of Saudi Arabia (like the new high-tech city of Neom or Tesla).
Furthermore, since 2016 PIF's investments seem to have not been made in concert with the country's "engineers," including Minister of Energy Khalid al-Falih and the technocrats of Saudi Aramco and the Ministry of Finance, who until now have very successfully steered the downstream industrial development of the kingdom.
One can thus surmise that the IPO is being delayed by a ruthless battle between the factions in government that favor the "financiers" of PIF versus the engineers that favor industrial growth underpinned by energy-based value-adding industries (like petrochemical and refining companies Sadara or Petro Rabigh). The engineers fear that the financiers will squander the kingdom's cash reserves on investments like Uber, SoftBank, or Tesla, while the financiers want to acquire advanced technology overseas at any cost, whether related to Saudi Arabia's natural advantages or not. Most importantly, the financiers are bent on keeping the economy and their investments fully opaque to maximize their impact, while the engineers want to bring in public support through transparency with operations like the IPO.
Ultimately, the factions are battling for the ear of Crown Prince Mohammed bin Salman, who may be returning to the old Saudi decision-making strategy of consensus-building. The delay in Saudi Aramco's IPO is likely to continue amid this battle between opposite visions of the kingdom's development until either a compromise is found or one group prevails.

Iraq's Kurdish kingmakers
Randa Slim, Director of the Initiative for Track II Dialogues
According to a presidential decree issued today, the new Iraqi parliament will hold its first session on Sept. 3 to elect a new speaker of the parliament and his deputies. It is unlikely that there will be a quorum next week primarily because the ongoing negotiations among Iraqi political parties to form the largest parliamentary bloc have yet to produce a winning alliance. On Aug. 19, the nucleus of an alliance led by popular Shi'i cleric Moqtada al-Sadr, Prime Minister Haider al-Abadi, Vice President Ayad al-Allawi, and cleric Ammar al-Hakim respectively was announced. This alliance has so far fallen short of mustering the 165 votes needed to claim the right to form the next Iraqi government.
The final agreement to produce the largest parliamentary bloc will most likely be a package deal involving an agreement among the bloc's components over nominees for the three key positions of president, prime minister, and parliamentary speaker. Iraqi politicians are still far from reaching that final agreement.
The divisions among the Iraqi Shi'i parties have thrust the Kurdish parties back into the kingmaker's role. A delegation of the Sadr-led alliance was in the Kurdistan region today for negotiations over forming a coalition with the two leading Kurdish parties, the Kurdistan Democratic Party (KDP) and Patriotic Union of Kurdistan (PUK). On Aug. 20, President Masoud Barzani told U.S. envoy Brett McGurk that Kurdish parties prioritize "real partnership" with Baghdad. Before casting their votes with the Sadr-led alliance, however, the two leading Kurdish parties will seek a clear understanding of the next government's policies, especially as they pertain to contested issues between Baghdad and Erbil—the future of Kirkuk and other disputed territories, the peshmerga, border control, and the Kurdistan regional government's share of the Iraqi budget.

Russia muddies the waters in Idlib
Charles Lister, Senior Fellow
For the 18th day in a row, loyalist pro-regime forces are deploying yet more equipment and manpower to Syria's northwest as tensions continue to rise over the fate of the country's last de-escalation zone. Despite continued dialogue and negotiations between Russia and Turkey, military actions on the ground still indicate that a major pro-regime offensive is just a matter of time. While such a campaign may indeed focus initially on peripheral areas—such as northern Hama, western Aleppo, Latakia's Jabal Turkman, and the Jisr al-Shughour area of western Idlib—the likelihood of it remaining limited is low.
Though Russia insists that it remains opposed to major hostilities in Idlib, its behavior speaks to a different reality. In a clear attempt to ratchet up tensions, Moscow has encouraged recently surrendered opposition fighters from southern Syria to join the Syrian army's Fifth Corps in travelling north to reinforce pro-regime frontlines. Russia's military has even offered financial rewards for doing so, as high as $150-200 per week per fighter.
Meanwhile, Russian government and military sources have issued conspiratorial "warnings" through state media channels of an imminent chemical attack by opposition forces, claiming "foreign specialists" have recently arrived in Idlib to "stage" an attack that "will be filmed for international media to frame" the Assad regime. Intriguingly, similar such "warnings" spread by Russian state media have preceded chemical attacks conducted by Syrian regime forces, such as in Douma in April 2017. Russia's military even went one step further on Monday, claiming that a U.S. warship—the USS Ross—had arrived in the Mediterranean to conduct a strike on the regime, following this predicted, or "false flag" chemical incident.
Russia's deployment of conspiracy theories may indicate a loss of faith in diplomacy to prevent hostilities in Idlib. By muddying the waters, Moscow appears to be preparing for escalation.
Photo: FAYEZ NURELDINE/AFP/Getty Images