In this week's Monday Briefing, MEI experts Gerald Feierstein, Yousef Munayyer, Bilal Y. Saab, Marvin G. Weinbaum, Charles Lister, and W. Robert Pearson provide analysis on the death of fmr. Yemen President Ali Abdullah Saleh, the Trump administration's plan to recognize Jerusalem as Israel's capital, an Israeli airstrike on an Iranian target in Syria, Sec. James Mattis's upcoming trip to Pakistan, the collapse of Geneva talks on Syria, and Turkish President Erdogan's visit to Greece.
Ali Abdullah Saleh Killed in Yemen
Gerald Feierstein, Director of Gulf Affairs and Government Relations
Ali Abdullah Saleh's death, December 4, brings to an end the remarkable career of the dominant political figure in Yemen for over three decades. But Saleh was largely a spent force by the time he died in a weekend's fighting in the Yemeni capital, Sanaa. Over recent months, Saleh's putative allies, the Houthis, had increasingly outmaneuvered Saleh in building their military and political capabilities, and were no longer reliant on Saleh to maintain their fight against the Hadi government and the Saudi-led coalition arrayed against them.
Thus, the events of the past several days, including Saleh's desperate 11-hour attempt to woo Saudi backing, brought to an end an unlikely partnership; a predictable denouement for the Yemeni leader.
Although Saleh was no longer a key player in the Houthi coalition, his absence from the scene does deprive the Houthis of an important symbolic presence that gave them some credibility as a broad-based movement that advocated good government and anti-corruption (sic). Without Saleh, the Houthis will be perceived more nakedly as a pro-Iranian, sectarian Shiite movement with millenarian aspirations to re-establish the Zaydi Shiite imamate that ruled North Yemen until 1962.
This is not a vision that will move most Yemenis. Thus, the Houthis are likely to suffer a further decline in their popular support, which was already waning as a result of the never-ending conflict, their rising involvement in corruption, and their violent, abusive tactics against the civilian population. The big question is whether this new reality will force them back to the negotiating table or lead to their further intransigence.

U.S. Recognition of Jerusalem as Israeli Capital Dangerous
Yousef Munayyer, MEI Scholar
Multiple reports indicate that the Trump administration is preparing to shift decades of U.S. policy toward Palestine/Israel by changing its position on the status of Jerusalem. Since 1947, the United States has favored the position that the status of Jerusalem is separate and must be resolved as part of a negotiated solution between the parties. President Donald Trump and his son-in-law Jared Kushner, who serves as a presidential envoy on this file, might be on the verge of altering policy on one of the most volatile issues in the world.
While speculation about a change is common every six months when the U.S president must decide whether or not to waive a congressional requirement to move the U.S. embassy from Tel Aviv to Jerusalem, this time seems different. The Arab League is set to hold an emergency meeting on the subject today and tomorrow, and regional officials have been expressing their concerns via statements to the press suggesting the message is not getting across through official channels. Importantly, Jordan's foreign minister last night called Secretary of State Rex Tillerson to warn against a move on Jerusalem, only days after Jordan's king was in Washington, suggesting the monarch did not get satisfactory guarantees from American officials on the issue.
Whether Trump makes the decision or not, the way this has been handled in keeping the region on edge until the last moment makes clear this administration is either dangerously ignorant of the magnitude of the issues it is engaging in or intentionally malevolent. Neither bode well for peace and stability in the region.

Israel Sends Message with Alleged Strike on Iranian Target in Syria
Bilal Y. Saab, Director of the Defense and Security Program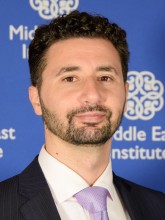 It is of little consequence to investigate what targets Israel might have bombed in Syria on December 2 (a Syrian or an Iranian military base?); what kind of weapons it used (surface-to-surface missiles or air-to-surface missiles from warplanes, or both?); or who it might have killed as a result (Iranian or Syrian soldiers, both, or none?).
What matters far more is the message Israel was reinforcing: that it is determined to prevent Iran from establishing a strategic and permanent military presence in Syria that could threaten Israeli national security.
But that goal flies in the face of reality. Backed by the Russians, the Iranians are going nowhere in Syria, at least not anytime soon. This means that Israel's red lines have to be more clearly defined and communicated to its adversaries. Is Israel drawing a line in the sand on any permanent military presence in Syria, or is it limiting its casus belli to the geography of Iranian troop deployment, the construction of weapons factories, or transfers of precision-guided missiles to Hezbollah?
The Israelis don't trust international diplomacy to remove Iranian forces operating near the Golan Heights. They probably don't trust the Russians to apply serious pressure on the Iranians. And they certainly don't trust Washington to formulate a coherent, post-ISIS Syria policy. Unilateral military action will continue to be the Israelis' preferred option, but even they will admit that there's no substitute for a military strategy for Syria, or to be more exact, Iran's presence in Syria.

Mattis to Press Pakistan on Islamist Insurgents
Marvin G. Weinbaum, Director for Afghanistan and Pakistan Studies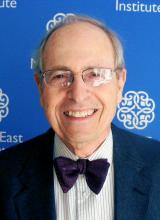 Secretary of Defense James Mattis arrives in Islamabad this week for talks. He follows other high-ranking American visitors who, in the wake of a more muscular strategy for Afghanistan, have been newly determined to press the Pakistani leadership to finally break with harbored Afghan insurgents. But this trip comes at an inopportune time.
Very recently, a Lahore court released from a nine-month house arrest Hafiz Saeed, leader of the jihadi group Lashkar-e-Taiba. Saeed, who carries a $10 million U.S. bounty, is believed to have masterminded the notorious 2008 Mumbai attacks and directed other terrorist acts. The decision drew condemnation from the United States and elicited a White House threat of "negative consequences" were he not rearrested.
Prospects that Pakistan will yield to American demands have been further dampened by the settlement of a road blockade that for three weeks paralyzed Islamabad and spread to other cities. Demonstrators belonging to a violent religious movement were protesting an attempted change in an election oath perceived as relaxing doctrine on the finality of the prophet. With the apparent acquiescence of military brokers, they have succeeded in wresting from government representatives a set of concessions, including strengthening the country's blasphemy law.
The capitulation that forced the resignation of the federal law minister highlights the elected government's political weakness, but more seriously testifies to how, after years of patronizing militant Islamist groups, energized extremists have now hemmed in Pakistan's leadership. Thus, Mattis's negotiations will be with government and military leaders hardly positioned to give way.

Geneva Talks Collapse … Again
Charles Lister, Senior Fellow
Despite Russia's best efforts to corral Syria's various actors along a path paved toward a political settlement, the U.N.'s latest round of talks in Geneva effectively ended on Friday—again with no substantive progress made. It has been clear for several months that Moscow is in a race to de-escalate and settle the conflict in Syria, both in as representative a way as possible and in order to consolidate its newly gained interests in the country.
However, it was not Syria's opposition that scuppered the talks in Geneva; it was Russia's supposed ally, the Syrian government, which hurriedly quit on Friday and returned to Damascus. Beyond anything else, this latest example of regime intransigence underlines Russia's insufficient leverage over its Syrian partner to secure any meaningful negotiations.
The balance of power has undoubtedly shifted in Syria in 2017, but there will be no political settlement until the warring parties come to the table together. After more than six years of war, this has still never happened. Russia is in a rush to 'solve' Syria, but Bashar al-Assad is not. Assad's most valuable partner, Iran, is also more than happy to let Syria's war drag on—the longer it lasts, the stronger their respective hands become. Sadly for Syria, this spells further instability and a prolongation of any future process of stabilization and recovery.

Erdogan in Landmark Visit to Greece
W. Robert Pearson, MEI Scholar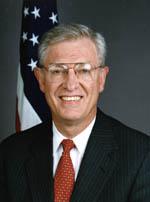 President Recep Tayyip Erdogan's visit to Greece December 7 and 8, the first by a Turkish head of state in 65 years, could be game changing, but so far seemingly has modest goals. For now neither Athens nor Ankara is hyping expectations. The neighbors should agree on greater cooperation on terrorism, refugees, and major economic projects dealing with land and sea transportation.
Improved relations with Greece will ease the temperature on Turkey's fraught relations currently with the E.U. and NATO. Greece will welcome new Turkish economic investment, and Turkey can highlight its interest in regional positive relations. There is also a chance that President Vladimir Putin asked Erdogan to develop closer relations with Greece, seeing for Russia in such a move the opportunity to further weaken NATO's eastern reaches since Greece has been a reluctant NATO ally at times.
Erdogan may try to leverage anti-German sentiment in Greece to criticize Germany and the E.U. There might be a surprise or two. Would Greece consider returning to Ankara eight Turkish military personnel despite having granted them asylum last year? Another bit of drama would be for Erdogan to visit Kemal Ataturk's birthplace in Thessaloniki to deliver remarks highlighting his new campaign to be seen as the man who will fulfill Ataturk's dream as a nation builder, not a secularist. On most issues, Erdogan emphasizes his power not his generosity; if he decided to take the high road with Greece, the world would applaud.