In this week's Monday Briefing, MEI experts Alex Vatanka, Randa Slim, Marvin G. Weinbaum, Yousef Munayyer, and Gerald Feierstein provide analysis on recent and upcoming events including Turkish President Erdogan's visit to Iran, Ayatollah Ali al-Sistani's efforts to push for dialogue after the Kurdish independence referendum, the pending indictment of Nawaz Sharif in Pakistan, signs of progress in the reconcilliation attempt between Hamas and Fatah, and the Saudi king's visit to Moscow.
Erdogan Visits Iran as Tension Rises over Kurdish Vote
Alex Vatanka, Senior Fellow
Turkish President Recep Tayyip Erdogan is visiting Iran this week to push forward the process of détente that Tehran and Ankara have been pursuing in recent months. President Hassan Rouhani is stressing that the visit by Erdogan is the beginning of a "new era" in relations. But then again, Rouhani said the same thing back in January 2014, which was the last time Erdogan visited Tehran. Back then, the Turkish and Iranian competition in Syria was on top of the list, and it will remain so on this occasion.
In the interim, however, the political realities of the Middle East have changed plenty, as have Turkey's priorities is Syria—Ankara is now willing to accept Bashar al-Assad in power. Now, Turkey wants to make sure it can extract concessions from Iran and Russia on the question of Syria's Kurds. Ankara wants Iranian and Russian help to restrain the Syrian Kurds, but Russia has been less than committed on this question, while Iran has been forthcoming.
This Iranian impulse has been strengthened by the September 25 independence vote in Iraq's Kurdish region, which both Iran and Turkey opposed. Meanwhile, on October 2, Turkish and Iranian military bosses agreed in Tehran to "increase military cooperation." Military coordination is already happening in Syria's Idlib region, and Erdogan's visit to Tehran might pave the way for a more coordinated Turkish-Iranian effort against the Iraqi Kurds.
Sistani Pushes for Dialogue after Kurdish Referendum
Randa Slim, Director of the Initiative for Track II Dialogues
Ayatollah Ali al-Sistani's sermon on Friday sought to redefine the zero-sum framework Baghdad and Erbil have locked themselves in by creating a pathway for dialogue. He opposed the division of Iraq while calling on Baghdad to respect the Kurds' constitutional rights.
On the one hand, he de-legitimized the demonization of the Kurds, which was instigated inside the Shiite political bloc by pro-Iranian elements, including former Iraqi Prime Minister Nouri al-Maliki and leaders of the Popular Mobilization Forces. On the other hand, he broke the political isolation of the Kurdish leadership. Baghdad's travel ban, along with warnings by Turkish and Iranian leaders of an impending economic blockade and a continuing firm U.S. opposition to the referendum, have made the Kurds feel abandoned by the outside world.
Despite the opposition voiced by Baghdad, Ankara, Tehran and Washington, leaders in Erbil decided to go ahead with it primarily because they felt they are in the best position to push Baghdad into a dialogue about their future relationship. Their calculus was based on two bets. First, Iraqi Prime Minister Haider al-Abadi will need the Kurdish parliamentary bloc's support to secure his re-election bid next year; Erbil would use this leverage to make Abadi agree to negotiations. Second, Baghdad and Washington need peshmerga support in the final phases of the anti-ISIS campaign. Once ISIS is driven out of Iraq, Erbil will lose leverage with both capitals.
While Sistani has made it politically safe for Abadi to engage in a dialogue with Erbil, he has also set the secession of Iraqi Kurdistan as a red line that Baghdad cannot cross.
Pakistan's Judicial War on its Political Leadership
Marvin G. Weinbaum, Director for Afghanistan and Pakistan Studies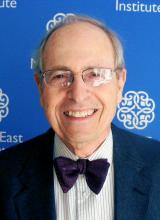 Pakistan's Accountability Court delayed indictment against Nawaz Sharif for a week. The former prime minister is facing trial on charges of corruption and dishonestly. Cases stemming from evidence revealed by the disclosures of the Panama Papers on hidden bank accounts are also proceeding against Sharif's daughter, two sons, and a son-in-law. Meanwhile, an arrest warrant has been issued against another of Sharif's sons-in-law, the country's finance minister, who is separately accused of graft, and a court petition is pending to disqualify the current foreign minister.
A Lahore judge has also opened up the possibility of court action against Shebaz Sharif, the brother of Nawaz and chief minister of Punjab province, who is accused of ordering a police action that killed several demonstrating civilians in 2014. The chief instigator of the judiciary's actions against the Sharifs, party opposition leader Imran Khan, also has a case pending against him involving an illegal payment that could lead to his disqualification from holding public office.
An activist higher judiciary, probably encouraged by the military, has effectively declared war on leading members of the political class. Together, they appear intent on clearing the way for a new field of politicians to emerge. Sharif's ascendant Muslim League could now fracture. Without its charismatic leader at the helm, Khan's party may also have difficulty competing. Possibly, Pakistan's "Deep State" will take this opportunity to rid itself of troublesome political actors by promoting a government of technocrats.
Challenges to Palestinian Reconciliation Remain
Yousef Munayyer, MEI Scholar
Rami Hamdallah, the prime minister of the West Bank-based Palestinian Authority, visited the Gaza Strip today for the first time in two years. It's the most recent sign of progress in yet another reconciliation attempt between Hamas and Fatah.
The reconciliation saga has been on-again off-again for the better part of the last decade, during which time a crippling siege laid primarily by Israel, but with the participation of Egypt and the P.A., has had a devastating impact on Gaza's economy. The question today is whether there is any reason to believe the prospects for success are any greater.
Despite the progress the visit indicates, the fundamental challenges to reconciliation remain. Who will control security in Gaza? Will Hamas voluntarily disarm? Will Israel accept talking to a unified Palestinian Authority? Will the United States be able to financially support reconciliation even if the parties want it? Will Fatah want to own the problems in Gaza it has played a role in creating over the last decade? Will both Hamas and more importantly Fatah be able to put Palestinian national interests ahead of demands from Washington and Israel?
The unity of the Palestinians is in the Palestinian interest, and disunity is in the interests of those players, like Israel, who seek excuses to avoid sacrifices for peace. Since we've seen these reconciliation efforts fail before, it is best to approach the current attempt, with so many question unanswered, with a healthy dose of skepticism.
Saudi-Russian Ties Improving as King Salman Visits Moscow
Gerald Feierstein, Director of Gulf Affairs and Government Relations
King Salman will become the first Saudi monarch to visit Russia later this week when he travels to Moscow. Although Saudi-Russian relations have been strained in recent years over Russia's intervention in Syria and support for Iran, common interests, particularly in the oil sector, have brought the two closer together.
But the visit also symbolizes changing geopolitical alignments in the Gulf. As was the case with Salman's first-ever visit to Beijing earlier this year, the Moscow trip demonstrates that the Saudis are adopting a more pragmatic foreign policy in the era of Salman and his son, Mohammed bin Salman. The Saudis' reluctant acceptance that Bashar al-Assad will survive in Damascus has reduced the Saudi-Russian conflict. But even at the height of their differences over Syria, the Saudis and Russians were able to bargain on energy policy, stabilizing oil markets and benefitting both struggling economies.
The visit also reflects President Vladimir Putin's successful strategy in the region. Early predictions were that Russia's intervention in Syria would sour relations with the Arab world, but the reverse has been the case. Reflecting as well their frustration with wavering U.S. engagement, both Saudi and Emirati leaders have made Moscow a regular stop on their diplomatic circuits. Russia's good relations with all of the G.C.C. states allowed Russia's foreign minister, Sergey Lavrov, to offer to mediate the intra-G.C.C. dispute. All of these developments should be viewed in Washington as warning signs that the lack of clarity in its policies risks further damage to its preferred position in the Gulf.