In this week's Monday Briefing, MEI experts Gonul Tol, Gerald Feierstein, Alex Vatanka, and Marvin G. Weinbaum provide analysis on recent and upcoming events including the victory of Turkish President Erdogan's "Yes" constitutional referendum campaign to increase his powers, Secretary of Defense Mattis' trip to the Middle East, the entry of 1,600 candidates for the upcoming Iranian presidential elections, and the alarming violence in Pakistan against accused "blasphemers".
Erdogan Gets His Presidential Wish
Gonul Tol, Director of the Center for Turkish Studies
After years of wrangling, Turkey's President Recep Tayyip Erdogan finally got his wish. On Sunday, he captured a razor thin majority to finally establish a strong executive presidency and rule the country until 2029 and possibly beyond. Despite his victory, Sunday's vote is a disappointment for the president who expected to win a landslide, and is a major victory for the opposition given the enormous challenges they faced.
The vote was held under a state of emergency; Erdogan's most important challenger is behind bars; and the opposition was not allowed to mobilize its base while Erdogan and his campaign received 90 percent of airtime and held rallies across the country with taxpayers' money.
The electoral board's last minute decision to change the rules on Sunday not only further aided Erdogan's bloc, but also raised serious questions about foul play. Lacking a strong enough national consensus to carry out such fundamental change to the political system, Erdogan will face challenges running a divided nation if he does not drop his polarizing policies and appeal to the center.

Mattis on Second Trip to MidEast
Gerald Feierstein, Director of the Center for Gulf Affairs
The U.S. Defense Department continues to take the lead in formulating policy in the Middle East. Secretary of Defense James Mattis will make his second trip to the Middle East this week. Mattis' key stop will be Saudi Arabia, where he will almost certainly exchange views on the way ahead in Yemen, building on Deputy Crown Prince Mohammed bin Salman's highly productive visit to Washington earlier this month. The meetings in Saudi Arabia, as well as the additional stops in Israel and Egypt, are also likely to cover developments in Syria.
Potential regional engagement in Syria will be on the table. Both the Saudis and the Egyptians have expressed a willingness to send forces to support the U.S. campaign against violent extremist groups, and the Saudis, along with the Emiratis, have been eager to finalize planning for safe zones in Syria.
Challenging Iranian hegemonic ambitions is the underlying theme of the Mattis visit, encompassing discussions on both Syria and Yemen. Israeli concerns about Iranian and Hezbollah threats to Israel from the Golan Heights, as well as the direction of U.S. thinking on Syria in the aftermath of the U.S. missile attack, will be on the agenda in Tel Aviv.
Stops in Qatar and Djibouti are less likely to focus on substantive matters, but both will provide the secretary with opportunities to review U.S. force presence in the region with local commanders. In Doha, Mattis will want to discuss with CENTCOM a response to the I.R.G.C. navy's aggressive challenges to the U.S. Navy's presence in the Gulf, and may also raise with senior Qatari officials the results of Iranian Foreign Minister Javad Zarif's surprise visit to Doha earlier this year.

More than 1,600 Candidates Register for Iranian Presidential Elections
Alex Vatanka, Senior Fellow
Iran's May 19 presidential elections are proving to include more turns and twists than usual. In this roughly two-camp race between moderates and hardliners, some 1,636 candidates have registered, but only two dozens or so can claim to be serious candidates.
This week, the powerful Guardian Council, the country's ultimate vetting organ that answers to the unelected Supreme Leader Ali Khamenei, will decide who can run and who cannot. Among those that need to be certified to run are incumbent President Hassan Rouhani and former President Mahmoud Ahmadinejad. Ahmadinejad entered the race in open defiance of Khamenei, who told him not to run, and he is very unlikely to be approved. But in Iran there is some speculation that even Rouhani might have fallen out of favor with Khamenei.
That might explain why Rouhani's vice president, Eshaq Jahangiri, has suddenly entered the race. It is a tactical plan B in the event the president himself is barred, although that is a remote possibility. A more credible explanation is that the Rouhani camp is running multiple candidates to give Rouhani backup during the campaign.
Iran's notoriously short campaign period of about 30 days is hugely shaped by televised debates where candidates face off. As the sole candidate from his camp, Rouhani's voice could be drowned out in these debates since most of the other likely approved candidates are anti-Rouhani. Jahangiri and others close to Rouhani will enter the race, but will withdraw in the last hour. One can expect his hardline critics to attack Rouhani on two fronts: his alleged naiveté in dealing with the West, and his inability to tackle Iran's many socio-economic woes.

Pakistani Student Lynched for Blasphemy
Marvin G. Weinbaum, Director of the Center for Pakistan Studies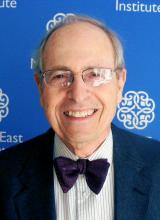 The brutal killing of a university student by a mob of fellow students in the northwestern city of Mardan for allegedly publishing blasphemous content online highlights the dangerous myopia and intolerance still plaguing Pakistan. Despite the military's much lauded resolve to eradicate religious extremism over the past few years, the above instance, and numerous others like it, are a glaring sign of grave religious intolerance directly breeding violence within Pakistani society. Yet, despite the damage it is causing to the social fabric of the country, the state and the military have been reluctant to address violence perpetrated in the name of alleged blasphemy.
The colonial era blasphemy law was meant to keep a curb on communal violence. It was upgraded in the 1980s to a capital offense and is frequently used to persecute both Muslims and minorities, including Hindus, Christians and Ahmedis--an Islamic splinter group to which the slain student allegedly belonged. The Mardan incident occurred after the state had launched a wide-ranging crackdown over the past several weeks on blasphemous content on social media. Now the situation has become thorny enough that journalists and other civil rights activists risk their lives trying to highlight problems with the blasphemy law. Violence in response to alleged blasphemy may not garner much international interest, which would be a near sighted approach. It is not a far step from lynching a classmate to perpetrating other forms of violence in the name of religion.