In this week's Monday Briefing, MEI experts Paul Salem, Alex Vatanka, Eran Etzion, and Gerald Feierstein provide analysis on recent and upcoming events including the Pope's upcoming visit to Egypt, Ahmadinejad's public feud with Ayatollah Khamenei, Israeli efforts to draw Russian support away from Iran, and the appointment of Prince Khalid bin Salman as Saudi Ambassador to the U.S.
Pope's Egypt Visit to Reassure MidEast Christians
Paul Salem, Vice President for Policy and Research
The Roman pontiff will visit Cairo on April 28-29, where he will meet with Coptic Pope Tawadros II and Christian leaders of other denominations, celebrate mass and meet with government leaders. He will be joined by Patriarch Bartholomew of Constantinople, considered the "first among equals" among Orthodox leaders, for a conference on peace at al-Azhar University.
The pontifical visit comes only days after an ISIS attack on the famed St. Catherine monastery in Sinai, and barely three weeks after the deadly ISIS attacks on Palm Sunday worshippers in Tanta and Alexandria that left dozens dead and over a hundred wounded. President Abdel Fattah el-Sisi has made countering radical Islamists and trying to reassure Egypt's Christians a central tenet of his administration, but many Copts say his government has not done nearly enough to secure Christian places of worship.
Pope Francis' visit should help comfort and reassure Egypt's embattled Christians and help strengthen Christian-Muslim relations. It will also send a welcome signal to embattled Christian communities in the Levant—from Iraq, through Syria, Lebanon, Jordan, and Palestine—that have seen increasingly intolerant Islamist movements threaten their ancient presence in their lands.
Sisi has tasked al-Azhar University with countering violent narratives and promoting a more moderate and tolerant interpretation of Islam, but critics have charged that al-Azhar has moved only reluctantly. The Trump administration and Congress should welcome the Pope's visit and support its message of building bridges between Christians and Muslims, both for the stability of Egypt, as well as for the wider Middle East.

Iranian Election Campaign Update—Ahmadinejad vs Khamenei
Alex Vatanka, Senior Fellow
The Iranian presidential elections are in full swing with six candidates approved to be in the race. Only three candidates matter—incumbent President Hassan Rouhani, Ebrahim Raisi, and Mohammad Qalibaf. The latter two are close to Supreme Leader Ayatollah Khamenei and will no doubt receive backing from the security and intelligence agencies that are answerable to Khamenei.
On a public level, this three-way race will lean heavily toward economic issues where the president's challengers will paint his four-year record as one of empty promises and a detachment from the problems of everyday Iranians. Real political drama, however, could come from another source. Among the many hundreds barred from running is former President Mahmoud Ahmadinejad. His disqualification was predictable as the Supreme Leader Ayatollah Ali Khamenei, who decides who can and cannot run, had made it clear he was against Ahmadinejad running.
It remains to be seen if and how the bruised populist former president will avenge his ostracism from the political stage, but it is unlikely he will go away quietly. In an unusual move, Ahmadinejad has already raised the ante by hinting that his supporters should shun the elections. By doing so, Ahmadinejad's aim is to delegitimize the entire election process and challenge Khamenei's de facto control over the approval process of candidates. It is hard to predict how this spat will evolve but the rumor mill in Tehran has it that Ahmadinejad is hellbent to publicly divulge information about the workings of the Islamic Republic with the aim of confronting Khamenei.

Lieberman to visit Moscow, Syria Top of Agenda
Eran Etzion, MEI Scholar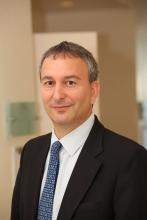 Israel's defense minister, Avigdor Lieberman, no stranger to Putin's circle, is making another trip to Moscow this week. Years before Donald Trump, Marine Le Pen and other Western figures were suspected of close association with the Russian strongman, vicious rumors about Lieberman being a Russian agent were prevalent in Israel. There was never any serious allegation or investigation into the matter.
Throughout his political career, Lieberman maintained close contacts with numerous influential figures in the political, financial and business fields in Russia. It gave him special insight into the Kremlin, but also brought a suspicious attitude from a succession of U.S. administrations and defense institutions.
The main issue at hand on this trip is Syria, and the ongoing fight for dominance and influence in Israel's war-torn neighbor. For Israel, there is a clear goal—eliminate or at least minimize Iran's ability to deepen its grip on strategic assets in Syria and Lebanon, such as a sea port, surveillance bases or newly created "Shiite villages." Israel is pushing the United States to take a similar stand, and it seems the new administration is attentive. The degree to which President Vladimir Putin will be willing to distance Russia from Iran is questionable. Moreover, Israel is playing a largely empty hand in this poker game. The Israeli air force informs the Russian military through a coordination mechanism each time it carries out an operation inside Syria. But the imbalance of power is perfectly clear to all involved. Lieberman will try to use his special relations in Moscow to sway the Russians over.

King Salman Strengthens Family Grip on Power
Gerald Feierstein, Director of the Center for Gulf Affairs
King Salman surprised Saudi watchers with a spate of personnel and policy moves Saturday that addressed challenges and enhanced the bin Salman family's control over key portfolios. In a move to beef up embassy operations in Washington, the king announced plans to dispatch his son, Prince Khalid bin Salman, the full brother of Deputy Crown Prince Mohammed bin Salman, as ambassador. Prince Khalid is a 29-year-old Harvard and Georgetown graduate who has also trained as an F-15 pilot and already seen combat in Yemen. Mohammed Bin Salman's half-brother, Prince Abdul Aziz bin Salman, was named minister of state for energy, putting a royal in the top tier of Saudi energy policy.
In additional personnel moves, King Salman shored up his ties to al-Saud family members with a number of appointments to governorships, as well as promoting Major General Prince Fahd bin Turki to command Saudi Land Forces, while moving General Ahmad Asiri, a close ally of Mohammed bin Salman, to serve as deputy head of Saudi intelligence. Asiri had served most prominently as the spokesman for the Saudi military, particularly concerning Yemen.
The king also announced restoration of civil service and military bonuses, presumably in response to grumbling among public sector employees about salary cuts in the face of a rising cost of living. The move marks a retreat from implementation of Mohammed bin Salman's Vision 2030 commitment to scale back the public sector in a bid to shift emphasis to private sector growth and diversification.