In this week's Monday Briefing, MEI experts Paul Salem, Bilal Y. Saab, Marvin G. Weinbaum, and Charles Lister provide analysis on recent and upcoming events including the latest violence in Gaza, Gulf Shield-1 military drills, the Taliban's resistance to peace, and the approaching Syria summit in Ankara.
Violence in Gaza
Paul Salem, Senior Vice President for Policy Research and Programs
The Palestinian protests of last Friday and the live fire from the Israel Defense Forces presages a new surge in Palestinian-Israeli contestation. Thirty-thousand unarmed Gazans protested along the Gazan border with Israel, and IDF snipers shot around 750 of them with live munition, leaving 15 dead and many more severely injured.
The protests are partly the result of the inhumane and unsustainable policy of quarantining Gaza. The strip has been an open air prison for years, trapping 2 million Palestinians without fundamental rights to water, health, work or mobility. Protests are also partly the result of extreme frustration over the absence of any path forward for the two-state solution. Organizers of the protests vowed they would continue until mid-May, when the U.S. is scheduled to move its embassy to Jerusalem.
Hamas has backed the protests as a means to put pressure on Israel and the U.S., and to embarrass Palestinian Authority President Mahmoud Abbas. There have been limited protests in the West Bank, but the situation there could escalate as well.
The heating up of the situation in Gaza comes at a time when Israel is even more worried about the situation to its north, where a growing Iranian presence in Syria has raised concerns of war.
For the administration of President Donald Trump, the bloodshed only puts in relief the continued absence of any "Art of the Deal" movement from the U.S. side. Mid-May could be an eventful time—with Trump probably withdrawing from the Iran nuclear deal amid international opprobrium, and "celebrating" the embassy move to Jerusalem, amid widespread Palestinian protest, and possibly, even more bloodshed.
Gulf Shield-1 is primarily about Iran
Bilal Y. Saab, Director of the Defense and Security Program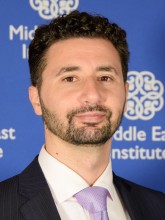 The second phase of Gulf Shield-1, a set of military drills to take place over five days in the eastern part of Saudi Arabia, organized by Riyadh and joined by 23 countries, is underway and will focus on military maneuvers and live-fire exercises.
Gulf Shield-1 scores high on a couple of points but low on others.
Let's start with the bad: the larger the exercise, the less specialized and focused. This is military training 101. Looking at the capabilities and the hardware that have been deployed—including fighter jets, tanks, and warships—it's not difficult to conclude that this is all designed to test preparedness for a major conventional conflict (read: war with Iran).
But allow me to sound like a broken record: today's most pressing threats to Saudi Arabia and other participating Arab nations are asymmetric. It's good that special forces are part of the drills, but they're not there to test their skills in combating terrorism and insurgencies but rather to train for coastal defense (read: amphibious assaults by Iran's Islamic Revolutionary Guard Corps).  
What's positive about Gulf Shield is its development of at least the concept of joint action among like-minded nations, and specifically for Riyadh, between Saudi Arabia and Pakistan. It also improves military professionalism and camaraderie among partners. Last but not least, it helps build an image of Saudi Arabia as a regional leader in military affairs.
The last time the Saudis conducted Gulf Shield-1 was in October 2016 in the Sea of Oman and the Strait of Hormuz. The Iranians didn't like it at the time and called it a provocation. No word from Tehran yet about the current exercise, but given that its core purpose is for the Saudis to better prepare for a potential war with the Islamic Republic, let's just say that the IRGC is not loving this one either.

Taliban hard-liners still hold the cards
Marvin G. Weinbaum, Director for Afghanistan and Pakistan Studies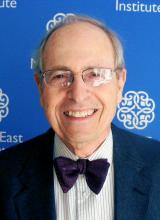 Following a deadly car bombing last week in a sports stadium in Afghanistan's Helmand Province, citizens protesting the continuing violence formed a peace convoy and sit-in that inspired a group of Afghan women to undertake a hunger strike. In calling for a cease-fire between the Taliban and government forces, the demonstrators attracted wide public support across Afghanistan, including plans for a peace rally in Kabul. After three days and the hospitalization of several hunger strikers, the protests ended when a council of Islamic clerics intervened promising to form a committee to approach the Taliban on behalf of the demonstrators.
The initial reaction of both the Taliban and the government was to reject the Helmand citizens' pleas. But the government soon threw its support behind a cease-fire that in fact meshed well with its own recent peace initiative. Meanwhile, the Taliban senior leadership has remained adamant. It reiterated its familiar demand that a cease-fire could only occur with the departure of foreign troops, and the protesters were told to demonstrate instead against such forces' presence in the province.
In its refusal, the Taliban appears to have missed an opportunity to align itself with an authentic grassroots movement. Its decision further confirms that the insurgency remains firmly in the hands of a hard-line leadership. This does not augur well for hopes that the Taliban might be influenced by recently intensified regional and international pressures to show flexibility and agree to enter high-level peace talks.  
Syria summit
Charles Lister, Senior Fellow
The leaders of Russia, Turkey and Iran will convene a trilateral summit in Ankara on Apr. 4 to discuss the crisis in Syria. Advisers to all three leaders are already working on drafting a joint statement focused primarily on three issues: first, sustaining or adding to de-escalation zones, particularly in Idlib; second, reinforcing Russia-led work on building a Syrian-Syrian constitutional committee to consider future reforms; and third, determining subsequent mechanisms for transitioning toward a drawn-out but representative political settlement.
Given the timing of the summit, which comes as fighters in eastern Ghouta's last opposition stronghold of Douma face imminent defeat and follows Turkey's conquest of the Kurdish-majority district of Afrin, the agenda will likely focus heavily on the future of northwestern Syria. Based on previous agreements in Astana and with express Russian permission, the Turkish military has so far established six of a planned 12 "observation posts" in Idlib in order to create a security buffer between opposition and pro-regime forces. The last three of these posts, however, have come under artillery fire from Iran-backed militiamen, killing and wounding Turkish personnel.
Imminent Turkish plans to expand these posts into sensitive areas in southeastern Idlib and establish new posts in northern Hama could easily spark further spoiler activity from Iranian proxies. Resolving this Turkish-Iranian rivalry will be of tantamount importance in the Ankara summit. This may prove the make-or-break moment for the often-awkward Russian-Turkish-Iranian triumvirate, the breakdown of which could presage an uncontrollable and chaotic escalation from which nobody benefits, least of all the nearly 3 million civilians in the area.