In this week's Monday Briefing, MEI experts Paul Salem, Randa Slim, Charles Lister, Jean-François Seznec, Eran Etzion, and Marvin G. Weinbaum provide analysis on recent and upcoming events including yesterday's terrorist attack on the Coptic Christian Cathedral in Cairo, the Sryian regime's progress in retaking Aleppo, the continued threat presented by ISIS, the potential selection of Rex Tillerson as the next Secretary of State, Ash Carter's farewell trip to Israel, and new Congressional pressure for Pakistan to crack down on the Haqqani Network.
Egypt Faces New Wave of Terrorist Attacks
Paul Salem, Vice President for Policy and Research
A terrorist attack that killed 24 worshippers at the Coptic Christian Cathedral in Cairo on Sunday comes at a particularly difficult time for Egypt and its security. Only days earlier an attack killed six policemen and several civilians near the pyramids site in Giza, Cairo. Amid the ongoing operations against ISIS militants in Northern Sinai, attacks on military and police personnel are also not infrequent.
It also adds to the string of attacks targeting Christians. An attack on the Coptic church in Alexandria on New Year's Day in 2011 left 22 dead, and attacks in the summer of 2013 left scores of churches in ruins and several people killed.
Egypt's society is still reeling from five years of political and security instability. The population is struggling with the socio-economic effects of IMF-related austerity measures, and the economy struggles to get much-needed tourism and foreign investment back into the country.
Terrorists are seeking to drive a sectarian wedge in Egyptian society as they have done in Iraq, Syria, and elsewhere. Tensions in Egypt have frequently run high, but Egyptian nationalism is still remarkably robust, and the government has moved to reassure the Coptic community. The U.S. administration, both the outgoing and incoming, should offer strong public support during this traumatic time for the Egyptian people.
It Doesn't End in Aleppo
Randa Slim, Director of the Initiative for Track II Dialogues
It is only a matter of time before all of Aleppo falls under the Syrian regime's control. Yet, as Syrian officials declared, the war in Syria will not be over. The question is at what human and financial cost the Syrian regime and its allies can hold territories and keep control over people they have bombed indiscriminately and defeated through siege and starvation. Recent developments in Palmyra show the Syrian regime forces incapable of holding territory without assistance from their Russian and Iranian backers. This Sunday, ISIS regained control of Palmyra after the pro-regime coalition wrestled it away last March.
In the coming months, a division of labor might emerge in Syria between a Trump administration and Mr. Putin: The United States would continue to lead the fight against ISIS while Russia and Iran help Assad regain control over the rest of Syria. The fight for Idlib will be costly and difficult.
The pro-regime coalition will also have to deal with Turkey, which is seeking to carve its own zone of influence inside Syria. Assad's recent statement that the federal structures created by the Kurds in northern Syria are "temporary," create common ground on which Damascus, Moscow, and Ankara could build further.
Beyond the challenge of holding territory, the Syrian regime faces the daunting task of reconstruction. Russia and Iran do not want to shoulder the burden of this costly endeavor. Under the right security conditions, China could put resources toward reconstruction. Some EU capitals might jump on the reconstruction bandwagon arguing that the refugee tide would be stemmed and that reconstruction money could be leveraged to wrestle from Assad the political concessions he fought hard to avoid. These hopes are likely to be mirages. The Syrian conflict, even after Aleppo, will still be long and hard.
 
ISIS Still Resilient
Charles Lister, Senior Fellow
The town of Palmyra and its famed ruins fell under ISIS control for the second time in 18 months on Sunday, following a major days-long assault by the jihadi group that involved at least seven suicide vehicle bombings. In addition to capturing the town, ISIS also took control of multiple oil fields, villages and military positions overlooking the critically important T4 Airport, some of whose aircraft were evacuated late Sunday.
With pro-Assad forces and Russia's military focused at a command level on events in Aleppo, ISIS' offensive in central Homs underlined again the inherent frailty of President Assad's military capabilities and his limited ability to take and sustainably hold multiple challenging theaters on opposite ends of the country. Assad remains heavily reliant on indigenous conscripts for his Army and paramilitary National Defense Force, as well as upon more than 60 domestic militia groups and a broad array of at least 50 foreign, Iranian-backed Shia militant factions. Such complexity falls far short of what would be necessary to secure Syria in the medium-to-long term. Russia's own military presence near Palmyra was reportedly evacuated on Thursday.
In addition to boosting its morale, ISIS is likely to benefit the most from substantial quantities of military equipment captured in Palmyra's environs. This allegedly includes as many as 30 fully-functioning tanks, six armored vehicles, multiple heavy guns and artillery pieces, anti-tank missiles and ammunition.
In Iraq meanwhile, ISIS continues to present an intense challenge to Iraqi security forces in Mosul. A staggering 1,959 Iraqi soldiers were reported killed and 450 others wounded during fighting in and around the city in November, according to the UN.
 
Tillerson at State?
Jean-François Seznec, MEI Scholar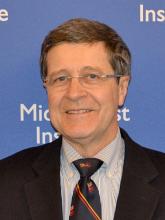 Arab leaders in the Gulf might look favorably on the appointment of a familiar oil executive as Secretary of State. However, they also know he is quite a strategist who knows the regional games and how to play them.
In Saudi Arabia, ExxonMobil was a founder of Aramco and holds multibillion dollar investments in refineries and chemical companies. In Qatar, ExxonMobil is part owner in 12 of the 14 LNG plants and runs some of the gas fields. In the UAE, it owns 28% of the Upper Zakum oil concession, the largest in the Emirate.
In Iraq, Mr. Tillerson has a multibillion profit sharing agreement in the West Qurna-1 field. Mr. Tillerson took the risk of losing that field when he decided to start exploring and producing in the KRG. Ultimately, the Iraqis lifted their objections to the KRG venture, handing Mr Tillerson a great foothold in both parts of Iraq. At the same time, he was able to poise ExxonMobil very close to the Kirkuk field, one of the largest in the world, and be ready to pounce on it as soon as the ownership of the field is settled.
All in all, Rex Tillerson's experience and knowledge of the Middle East goes well beyond oil, but his deep expertise in the sector that fuels the main actors in the region would be an advantage for the incoming administration.
 
Ash Carter's Farewell Trip to Israel
Eran Etzion, MEI Scholar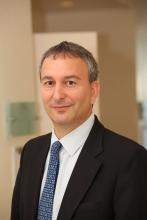 This week's visit by U.S. Secretary of Defense Carter to Israel will mark the end of an era in U.S.-Israel defense relations. The Obama era was marked by compartmentalization, separating the poisonous political relations between the two heads of state from the defense domain. Largely successfully, the two defense establishments managed to maintain and even deepen some aspects of their close cooperation.
The Iran nuclear issue was simultaneously the most contentious and the most successful area of engagement. The joint U.S.-Israel effort to sabotage the Iranian project ("Stuxnet" operation) broke new ground in cyber warfare and attests to the kind of clandestine strategic cooperation the United States only has with its closest allies. On counter terrorism – including ISIS - and other regional threats, intelligence sharing has also deepened.
The two defense establishments are probably awaiting the incoming Trump administration with likeminded concern. Having been caught by surprise by Trump's victory, and equally blind regarding his future defense policies, they will both adopt an "influence and adapt" approach to their respective political leaderships. Iran will again be at the top of the politico-military agenda, at least in the short run, but with Syria as focal point. It is already clear that the incoming U.S. administration and Israel do not see eye to eye on this issue, regarding the Russian role, the Iranian influence, and the future of Assad. After January 20, it might be back to compartmentalization in the U.S.-Israeli leadership.
 
Congress Tightens More Screws on Pakistan
Marvin G. Weinbaum, Director of the Center for Pakistan Studies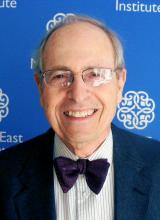 By overwhelming majorities in both houses, Congress has enacted a 2017 National Defense Authorization Act that withholds $400 million of a $900 million military aid package to Pakistan. The aid contained in a Coalition Support Fund is intended to reimburse the country for military operations against the Haqqani Network, the Afghan insurgent group most often accused of targeting American interests. For Pakistan to qualify for the payment this coming year, Congress has stipulated steps it must take that demonstrate its commitment to prevent the Haqqanis from using its soil to launch attacks within Afghanistan. Pakistan is being asked to cooperate with Afghanistan to block militants and move to arrest and prosecute Haqqani leaders. As in last year's legislation similarly conditioning $300 million in military assistance, the U.S. Defense Secretary must certify that Pakistan has met these conditions for funds to be released.
Congressional actions reflect continued frustration with Pakistan over what is believed to be the close ties of Pakistan's security services with the Haqqani group and more broadly a perceived unwillingness by Pakistan to use its leverage with the Taliban and allied Haqqanis to force a negotiated end to the Afghan conflict. Members of Congress are also displeased with inadequate protections of Pakistan's ethnic and religious minorities, namely Christians, Hindus and Ahmadis. The Congress' instructions to the Defense Secretary ask that he monitor whether U.S.-provided assistance is being used to persecute these groups. More than reduced military aid, this conditionality is seen as intrusion into Pakistan's domestic policies and is bound to rankle Islamabad.